Zoning allows homes or offices to be divided into separate temperature zones, in essence room to room temperature control. Zoning is capable of providing a thermostat for each room in a given space. The thermostat then signals an automatic air control damper in the duct for that room or zone which controls the flow of the conditioned (heated or cooled) air. With zoning only the area(s) needing conditioned air get it while areas that are already comfortable do not, solving the problems of rooms becoming too hot or too cold.

With our new Color Coded Push-In Wiring Terminals and Plug-in Zone Dampers, ZoneFirst is making Zoning easier and faster to install again.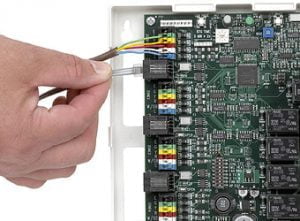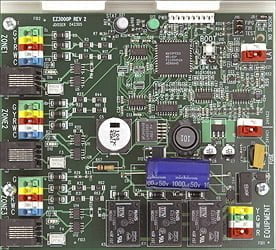 Only ZONEFIRST offers simple, easy-to-wire zone control panels that eliminate the time to screw in every wire from the damper motor and thermostat. Our NEW Color Coded Push-In terminals helps every installer easily see where each thermostat Y-G-R-W and C, if used, wire should go. The push-in terminals make it easy to insert each wire quickly and easily. The quick release button also makes removing the wires easier and less time consuming than screwing and unscrewing each wire.
Our NEW Plug-In Damper Motors use a modular plug cord or telephone wire, to simply plug-in each damper. The NEW DC powered motor uses much less power and current than 24VAC motors, which is another savings, and has a built-in two color LED to indicate when the damper is Open (Green) and Closed (Red). Each damper also includes a 25 foot modular cord and splitter. The splitter allows slaving up to 10 additional dampers on the same zone. Also ZONEFIRST is the only one to give you the wire for the dampers . . . another advantage and cost savings.
ZONEFIRST's New Plug-in Zone Dampers and Controls with Color Coded Push-in Wiring Blocks is so easy and so FAST, you'll be done in a SNAP. There's not another system out there that's Easier, Faster and Simpler.
Worlds easiest Zoning System to install
Least expensive Zoning system
Unlimited amount of zones available by adding zone expansion panels.
The only Zoning system with plug-in 12-volt DC dampers
Uses any style thermostat
Push-in terminals with color coded wiring blocks Plug-In dampers (4 wire phone cord)
25′ phone cord included with damper
Intergraded lights let you know if damper is open/closed
Up to ten dampers wired in series
Supply Damper sizes from 4″ – 20″
50 Years of Zoning Experience