York Chillers & Chiller Parts
Introducing YORK® Chiller Solutions for Sustainable HVAC Solutions
Experience the power of YORK® Chiller Solutions from Johnson Controls, designed to meet your building efficiency needs. Our comprehensive range includes water and air-cooled industrial and commercial chillers, providing you with unmatched options in the market. Our focus is on reducing your facility's carbon footprint, creating a healthier indoor environment, and cutting energy costs. Our smaller, energy-efficient chillers are tailored to suit almost any comfort or process cooling application, including heating.
Unlock Efficiency with YORK® Variable Speed Drives (VSDs)
Embrace a more efficient chiller with YORK® VSDs, a major step in reducing energy consumption and your building's carbon footprint. Even high-efficiency models can't match the real-world performance of a YORK® VSD chiller.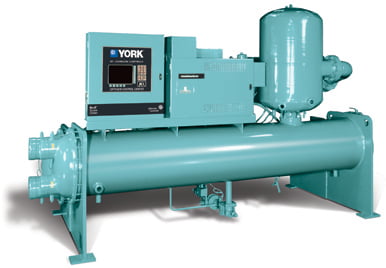 Maximize Your Efficiency with YORK® VSD
YORK® VSDs can cut a chiller's annual energy use by up to 30 percent while maintaining reliable operation across various conditions. Enjoy these benefits in two ways: first, at part load, a VSD chiller inherently uses less energy by closely matching the load when cooling capacity can be reduced. Second, during low-lift conditions, significant energy savings are possible when the VSD chiller operates in off-design conditions, such as cooler ambient temperatures or using chilled water reset.
Delivering More Than Energy Savings
YORK® VSDs offer substantial off-design energy savings, resulting in a payback period as short as one to three years. Additionally, you'll experience significant energy savings month after month and year after year over the chiller's life.
Additional YORK® VSD Cost Savings
With YORK® VSDs, you benefit from reduced auxiliary-component costs, the ability to specify a smaller generator, 60% lower start-up amps, on-site serviceability, and enhanced electrical protection.
Smart Equipment by Johnson Controls
Select YORK® chillers come Smart Equipment enabled, boasting embedded controls for seamless connectivity to your controls system. Smart Equipment can self-identify without the need for programming tools.
Experience Smart Equipment Technology
Rely on Smart Equipment to effortlessly connect to your controls system and enable cloud-based data analytics, including fault detection, for proactive maintenance and minimized downtime. Smart Equipment maximizes control for greater efficiency, extended equipment life, and reduced operating costs.
Smart Connected Chillers
Our Smart Connected Chillers combine advanced controls and expertise to deliver critical chiller performance information to experts, enabling them to respond to emergencies and identify issues before they escalate.
Experience the Future with Johnson Controls
Monitor your chiller's performance from anywhere, ensuring uptime and minimizing unexpected expenses.
Privacy and Data Protection by Johnson Controls
Trust in our products and services, built with Privacy by Design principles, to safeguard your data and encourage responsible data management.